Brick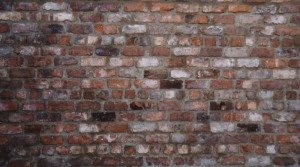 One of the oldest and most durable building materials; its variability, flexibility, durability and strength has made a ubiquitous walling material. Traditionally made from dried earth the centuries of use and development has lead to a very sophisticated produce now mass produced in millions each year in the UK alone.
The earliest bricks were probably made of mud and date back at least 5000 years, and probably considerably more. Modern bricks are still normally made from fired clay (a natural extension of sun-baked mud) but they now come in a vast range of colours and surface finishes. It must be remembered that most facing bricks, while very strong are damaged by frost if their exposed surfaces are saturated with water. The only real exception to this is engineering bricks which are not as absorbent as facing bricks, but are only available in plain red or blue.
 Concrete
The use of concrete dates back at least 2000 years; it was used extensively by the Romans and there are Roman writings on its mixing, placing and use. Though its use has waxed and waned with changing fashions is seems every new generation re-discovers it, finding original uses for it.
Years of use and study have meant that what may appear to be a very simple basic material has become a very complex subject. What is frequently not appreciated is concrete, while having excellent compressive strength1, has so little tensile strength2 that is it regarded by engineers as having none.
Stone
The stone mason is one of the oldest trades and stone walls have been found wherever stones can be sourced. The earliest were probably dry stone walls built from stones found laid on or near the surface of the soil.  The durability and effective ness of these can be seen from the miles of dry stone wall which snake over the North Yorkshire Dales, where the shallow topsoil means the stones could be sourced by gradually picking up stones laid about the fields. Once metal tools had been invented stone could be cut, worked and polished allowing the creation of the pyramids and temples of the ancient world.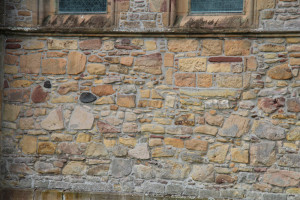 Stone comes in a vast range of forms and this determines it suitability for building and what results can be achieved. As one of the main costs of stone is haulage, traditionally it was sourced close to where it was to be used so lending distinctive local styles to walls.
Timber
Though not as durable as stone or brick, its easy of working and availability has meant it has long been used as a building material. It has also has other advantages over brick and stone work: it is a lot lighter, possesses tensile strength2, can be readily coloured with stains and paints, and although it does weather it is unaffected by frost.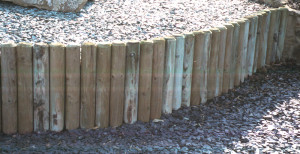 Wood is though a very variable materials depending mainly on the tree species it comes from, but also the environment the tree grew in and the part of the tree it is harvested from. When used in construction this can lead to concerns about its structural strength and for this purpose it is "stress graded" but in a garden context the size of the timbers chosen for aesthetic considerations means this is unlikely to be important.
Notes:
1)      Compressive strength is simply the ability of a material to resist being crushed.
2)      Tensile strength is simply the ability of a material to resist being pulled apart, something that brick, concrete and stone walls actually lack. Hence the need for arches or solid lintels over openings in walls.