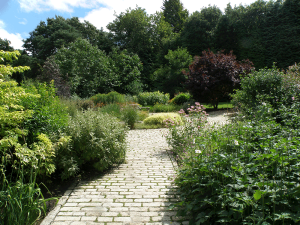 This is a private garden open to the public and one of the best modern gardens in the south west of England. It is far more of a garden than the nearby Eden Project or Lost Garden of Heligan and one of my favourite gardens of all time. It all started in 1976 when Ray and Shirley Clemo were looking for a property near their fruit and vegetable business. At the time the property consisted of a bungalow with an orchard and a couple of acres of land. Initially the intensions were modest but, as happens, one they started the project grew and grew!
The garden is in fact divided into 12 gardens each with a different feel but the separation of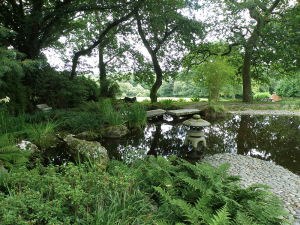 individual areas is not as sharply defined as in Hidcote and Sissinghurst with one area being allowed to flow into the next. The bungalow is quiet modest and is easily lost in amongst the garden and its urban location, on the outskirts of Saint Austell, means it makes little use of the surrounding landscape so the garden has to be very self-contained. This is achieved by using the loose divisions between the garden areas to allow you to be drawn through the garden with a central or external focus. The enclosed mind-set of the garden and the restrained use of hard landscaping make the plants the focus of the garden and great effort is placed on naming as many as possible. Over 6000 named plants have made it extremely popular with garden visits and contra to what is claimed by the operators of some other nearby gardens do not in any way distract from the display but add to the pleasure for visiting gardeners.
Ill health finally forced Ray and Shirley Clemo to sell the garden and it is now owned and run by Chang Li who has managed very well to preserve the work of Ray and Shirley while expanding the gardens commercial side. The garden therefore remains an excellent example of garden design in the second half of the 20th century.