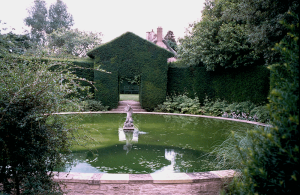 Few gardens have had the impact that Hidcote Manor has had and this is reflected in that not only was it the first garden to be acquired by the National Trust on the garden alone merit but it passed to the Trust prior to its creators death. Divided into compartments by hedges to form individual gardens it could become claustrophobic and inward looking but this is prevented by the use of vistas and borrowed views of the surrounding open countryside.
Much is said of the structure of the garden but Lawrence Johnson was a plantsman at heart and this structure was merely there to display the plants he gathered around him. Like all great gardens this was very much one man's obsession; Johnson never married and was a quiet man about which little is known. His gardening philosophy he never discussed or recorded so why he design the garden in the way it is we can only speculate on bases in the garden he left.
Hidcote is very much a one off which you can comfortably spend hours exploring and which no one has successfully reproduced. It is often held up as an example of how dividing up a garden makes a small garden bigger but this shows a lack of understanding of how the garden works. For a start the gardens cover about 10 acres so each room can be on a human scale, which a smaller area would not allow. Also the garden makes use of long vistas out into the surrounding countryside.