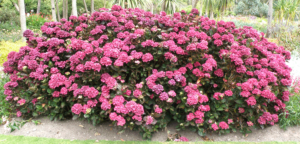 The secret to making a low maintenance garden border is to start off with no perennial weeds, after that the maintenance is no worse than a lawn in the first couple of years and far less thereafter. When creating a border most people make the mistake of making it too narrow, a 300mm (1 foot) deep border will just not work. If that's all you can manage your better off with climbers or wall shrubs. 1.5 to 2 metres (5ft to 6ft 6inches) is the sort of depth you should be aiming for, not all gardens may be able to accommodate this but the closer you can stretch to this the better. In a very small garden you may do better having one deep border at the bottom of the garden and climbers and wall shrubs on the other walls.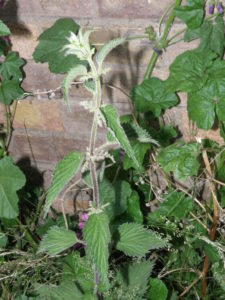 Once you've chosen your area you need to remove any perennial weeds before you start to plant. Removing them once the plants are in and growing is far harder and the reason many peoples' borders fail to work. Weeds like couch (Elymus repens ), ground elder (Aegopodium podagraria) and stinging nettles (Urtica dioica) have a spreading root which can quickly grows through the root ball of newly planted shrubs making the weeds extremely difficult and sometimes impossible to get rid of. Where the area is an established lawn these weeds will have not been able to become established because of the regular mowing. Here the grass can be stripped off but some weeds will be left behind such as dandelions (Taraxacum species) with their deep tap-root. The most reliable way is to kill off all the vegetation with a glyphosate weed killer (sold as Roundup, Gallup and other brand names). Leave the weeds to die down, this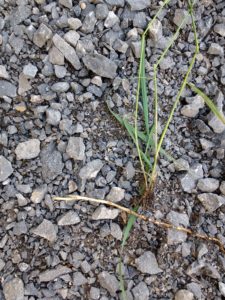 can take a week or two and then turn the ground over with a garden fork, removing any roots and large stones. If the border is edged by a lawn, tidy up the edge to form a clean line and spread 25 to 50 mm (1 or 2 inches) of organic matter and use a garden fork to combine it into the soil. If the soil is very sticky with clay, mix some sharp grit (about 1 to 4mm) to open the soil up making it better draining, easier to work and with more air in it.
The source of the organic matter is not important so long as it's free from contamination and weeds, your choice can be bases on price and availability. Well-rotted garden compost is ideal but few gardens have a large supply of it, peat was the traditional alternative and although it is a good soil improver these days its environmental cost makes it undesirable. Many councils now sell recycled waste as compost and these are normally well made, just don't pay a premium for an "organic" label it does make the compost any better; just allows the seller to claim a higher price! If you live in a rural area you may be able to get farm yard manure and if rotted down this is very good, but in practice farms don't want to leave the manure heaped up for a year or two to rot down so if you are going to use it you may have to except you must leave it to rot down before you can use it or the rotting straw can soak up any available nitrogen.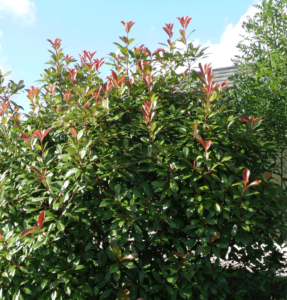 You are now ready to plant the border. Choose shrubs which have a good dense canopy of leaves in summer so they smother any weeds before they can become established. Being evergreen is not important in this context as weeds germinate doing spring and summer, but some will provide some interest during the winter. Try not to focus on what's in flower at the time as you want as long a period of interest as possible and bear in mind foliage lasts a lot longer than flowers. When walking around the nursery or garden centre make use of the labels and staff, if they're not helpful go somewhere else! A good supplier will take pride in their stock and gave a good knowledge of it. Deciding how far apart the plants should be is tricky and it can be very difficult to visualise how big a plant will be in a few years' time. The tendency is to over plant, especially in small areas so have a look at the label and ask if in doubt. Also bear in mind a 1.8 metre (6 foot) high plant is generally going to end up as wide as it is high.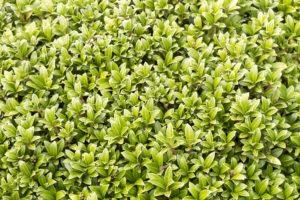 Once you made your choice and paid for them pack them in your car carefully, DO NOT have them sticking out of sunroofs and windows, they will travel perfectly well laid on their sides; even if some end up gently laid on top of one another. When home get them out of the car as soon as possible, stand them in a sheltered corner and water them well. Like this, so long as they are keep watered they will be fine for up to a week if you run out of time.
Planting can be done on any frost free dry day and start by setting out your plants in their intended positions. Now is the time to make any last-minute adjustments to the arrangement before planting.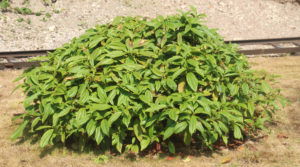 To plant use a garden spade to dig a hole larger than the plant pot, remove the pot, place the plant in the hole and firm the soil back around the root ball with your heel, making sure the top of the compost is level with the border soil. To remove the pot grasp the plant where it emerges from the compost and give the rim of the pot a firm tap with the palm of the hand. After all the plants are in rake over the surface to tidy up and water the plants really well, in part to settle the soil in around the root ball.
Give the borders a quick check over once a week for any weeds emerging, and remove them; most weeks there will be nothing to do and the next spring feed them with a general fertilizer.