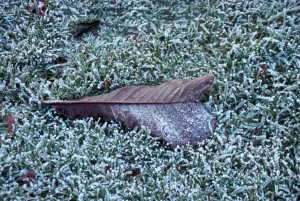 With the arrival of dark mornings thoughts turn to tidying the garden up for winter. The first frosts will soon finish off the annuals and tender perennials, while the hardy perennials die back for the winter and the deciduous trees and shrubs will take on their autumn colours before dropping their leaves.
Any tiding up will invariably create a collection of rubbish and gardening is no different. It's often said "one man's rubbish is another man's treasure" so what treasure can we find before glibly throwing everything in a skip. Not everything is going to be re-usable; if you come upon what might be asbestos sheets, then only option is to contact your local authority for some specialist advice. That aside in most cases the limiting factor is your imagination.
Once you get rid of the bits of broken glass and rusty metal, which only the most artistic gardeners will be able to find a use for, you are left stones, rubble, lumps of wood, leaves, weeds and  other bits of greenery, and soil. As a rule its best to keep any topsoil you find surplus to you immediate needs. Small amounts of topsoil often come in handy for filling stump holes and the like but, due to its weight small quantities are hard to come by and expensive. Even if you have nowhere to store it, you can lose it by spreading on to the borders. If you think this is going to cause problems consider 50 kg of topsoil (the same weight as 2 bags of cement) will cover a patch 1.5 m by 1.5 m with a layer only 10 mm thick.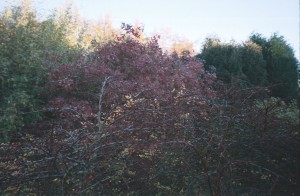 The green material will make good compost so long as care is taken when making it, and you have a little space for a compost heap/bin. Any woody material, like rose prunings, are best off shredded if they are to breakdown in a reasonable time. If you do not have the space, or time, our local authority will have a green waste composting service which will do the work for you and provide a quality controlled produce you can buy back from them when you need it.
It you have a lot of trees and shrubs you a likely to find, come autumn, you have a lot of dead leaves in the garden and these make an excellent soil improver in the form of leaf mould. Its worth considering that evergreen plants also shed lots of  leaves through the year, just take a walk through a conifer wood one day! Leaves tend to rot down more slowly that most of the green waste that goes into compost, so it's often better to separate the leaves out. The leaves can be heaped up into a simple container made of course wire netting supported by posts or canes, just consider how you will get the leaf mould out again. As the leaves of different plants will rot down at different rates is best if the tougher leaves are shredded to help them brake down, and some people recommend adding some grass cutting to help the process along. The heap should not be allowed to dry and will need turning at least once. After a year you will have a very useful soil improver but ideally the heap should be left for two years.