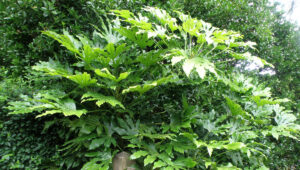 One of the classic garden plants for shade Fatsia japonica is much admired for its large, glossy, evergreen leaves and easy temperament. It grows happily in any reasonable garden soil and does particularly well in shade, though not so well in dry shade. It is also tolerant of a maritime garden though its large leaves will need some shelter from strong winds. The large fleshy leaves evoke the image of lush tropical rain forests but the plant is reliably hardy, though the result of crossing it with ivy produces the less hardy x Fatshedera lizei. Quickly forming a medium sized shrub with flowers borne on the end of the shoots. The flower buds and white flowers look a lot like a scaled up version of Ivy flowers, appearing in autumn. This late flowering means though the buds are reliably formed in the UK the flowers are often damaged by frost.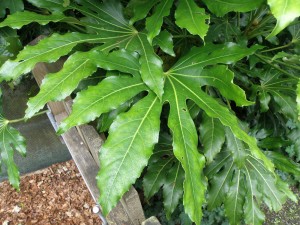 Known by a variety of common names including Japanese aralia, castor oil plant, fatsi, fig-leaf palm and glossy-leaved paper plant; F. japonica was originally described by Carl Peter Thunberg in 1780. This followed his trip to Japan where it grows wild and he named it Aralia japonica. It was re-named in 1854 by Joseph Decaisne and Jules Émile Planchon, two botanists working in France. They took it out of they genus Aralia and created the new genus Fatsia for it; so the name is now Fatsia japonica (Thunb.) Decne. & Planch.
In the wild Fatsia japonica is found from central Japan south along the Japanese islands almost to Taiwan and in South Korea. It is sometimes described as a monotypic genus, meaning that there is only one species init, but in fact there is at least two other species of Fatsia, Fatsia oligocarpella Koidz. and Fatsia polycarpa Hayata.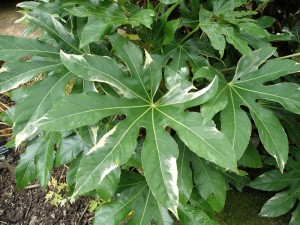 It was introduced to western horticulture in 1838 and though the plain green Fatsia japonicais the one most often seen in gardens others are available and the variegated form Fatsia japonica 'Variegata' which has splashes of white on the leaves is worth looking out for.