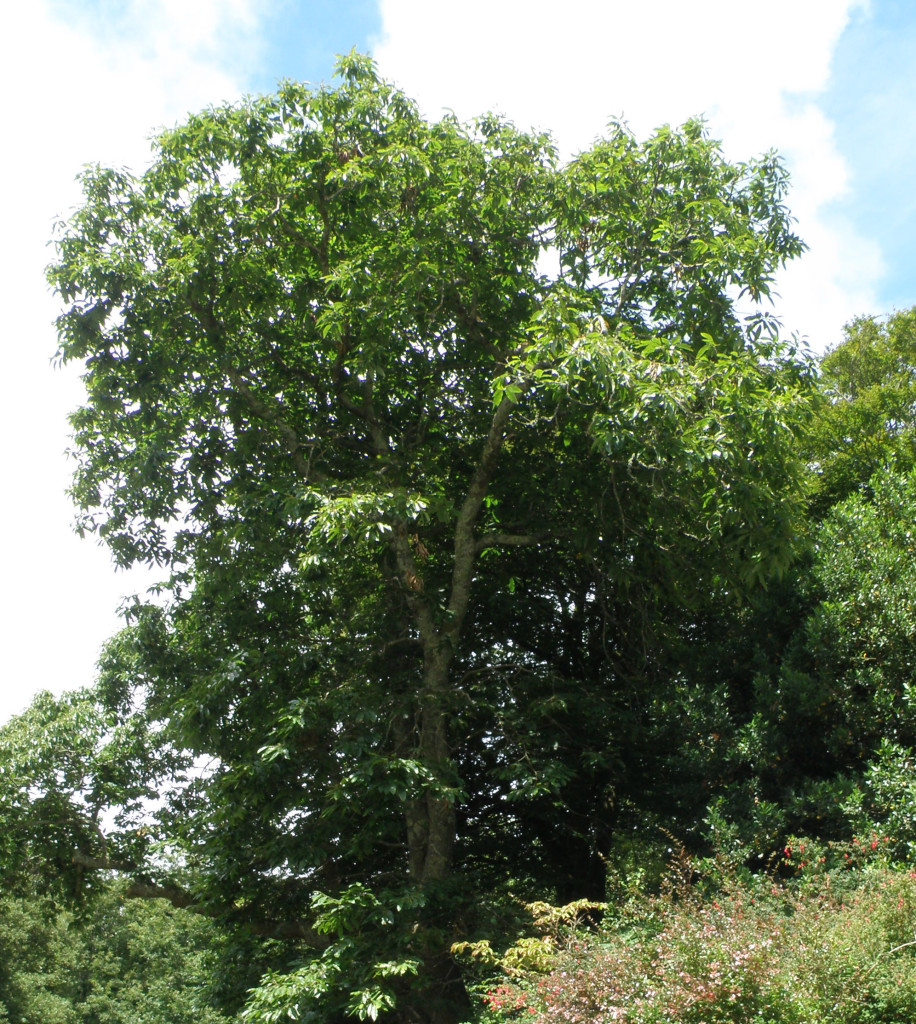 The Sweet (or Spanish) Chestnut (Castanea sativa Mill.) is probably most know for its edible nuts, traditionally eaten around Christmas time, but in fact it makes a very fine large tree. Clothed in thick glossy leaves, tolerant of a wide range of soil types and relatively free of disease it has been extensively planted through the British Isles. Its quick growth and large size limits its use in all but the largest gardens when grown as a tree, but its success as a coppiced tree would allow the more ornamental forms to be more wildly grown. At present these are not widely grown but Castanea saliva 'Albomarginata' is a very attractive form with creamy white edged leaves and C. ' Aspleniifolia' is a vary rare form with the serrated edges of the leaves drawn out into fine filaments.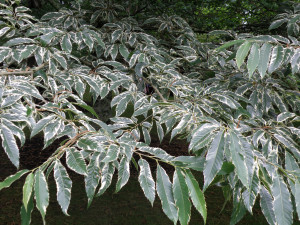 It is believed that the tree was introduced by the Romans who ate the nuts but in practice the tree fails to provide a crop of edible nuts in all but the warmest parts of the UK. Globally though about 500,000 tonnes of chestnuts are produced annually, about half in the Far East. In France the best nuts are sold as marron and in Italy marron may refer to a cultivar of C. sativa which yields fewer high quality nuts. Though Castanea is only represented by C. sativa in cultivation in the UK the genus is quiet large and widely distributed with several hybrids and cultivars being actively studied because of its economic importance. Of lesser importance is the timber of Castanea due to its tendency to warp and split but its durability in contact with water has long been known and has made it a preferred wood for stakes.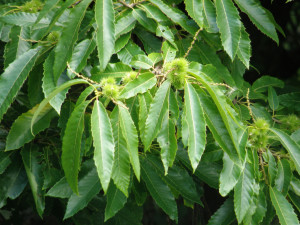 Its scientific name dates from the 8th edition of Philip Miller's Gardener's Dictionary published in 1768 when he updated it to bring it into line with the Linnaeus system of plant names. He did though take the sweet chestnut back out of the beech genus, that Linnaeus had merged it into, arguing that the male catkins of Castanea are long and those of beech are globular. Castanea is Latin for chestnut while sativa comes from the Latin for cultivated. It is claimed that castanea itself comes from the Greek κάστανα meaning chestnut and a large number of Greek words where borrowed by Latin.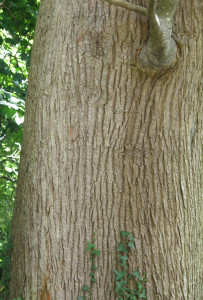 References:
Species Plantarum by Carl Linnaeus
Hillers Manual of Trees and Shrubs
Excursion flora of the British Isles by Clapham et al
Inventory of Chestnut Research, Germplasm And References, FAO http://www.fao.org/DOCREP/006/AD235E/AD235E00.HTM [accessed 30th January 2013]
http://apps.kew.org/trees/?page_id=85 [accessed 30th January 2013]
The Royal Horticultural Society Horticultural Database', available at www.rhs.org.uk [accessed 30th January 2013]
Botanical Latin by William T. Stearn
Tropicos, botanical information system at the Missouri Botanical Garden – www.tropicos.org [accessed 30th January 2013]