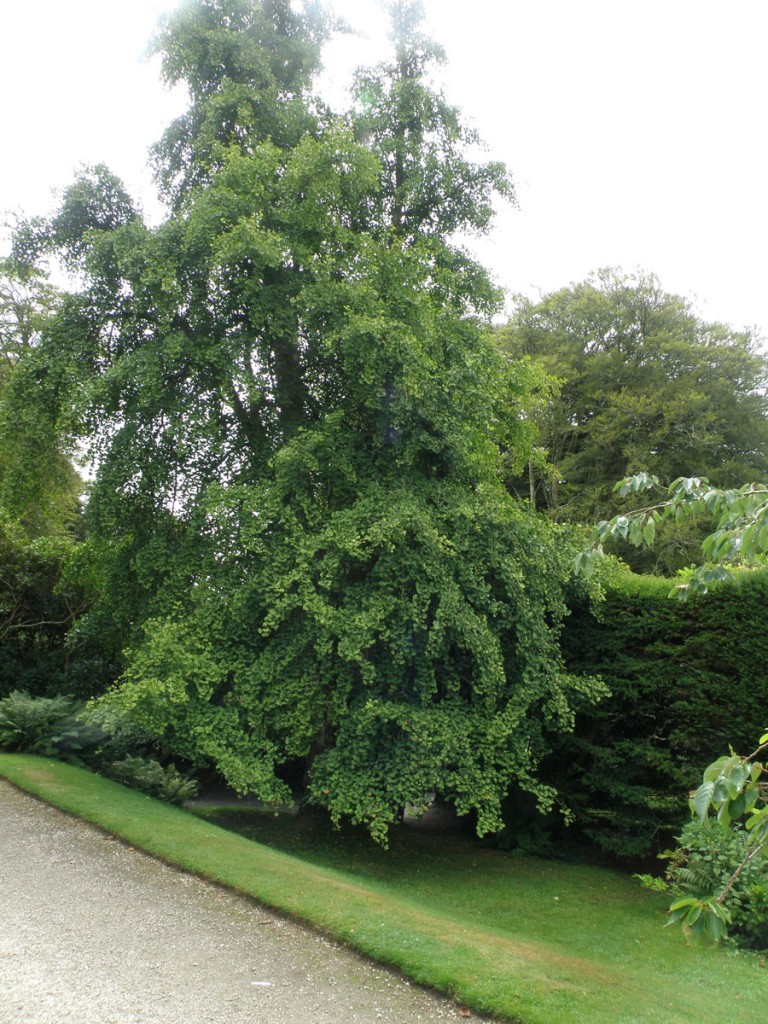 Ginkgo biloba L .in leaf is probably the easiest tree to recognise, it's leafs are so unique. Its heart shaped leaves resemble an enlarged version those of the maidenhair fern (Adianthum sp.) and so the common name the Maidenhair tree. The tree is quite narrow in habit, slowly growing to be a large tree. Hardy and unfussy regarding soil or location it tolerates industrial locations and can be grown all over the U.K. If this were not enough, come autumn, the foliage turns a glorious gold making it an excellent specimen or avenue tree. If you chose to plant one you should bear in mind it is both slow growing and very long lived. Kew's oldest specimen is over 250 years old and there are reports examples in oriental temple gardens 3,500 years old! So you will be planting something not only be able to out live you, but also your civilisation.
The maidenhair tree can be readily propagated from seed but this normally has to be imported as general only the male form is growing in the UK. Male and female flowers are borne on separate plants (dioecious). This is because the "fruit*" emits a vial smell when it starts to breakdown, said to resemble the smell of vomit. In contrast the seeds are edible and said to resemble pine nuts in flavour.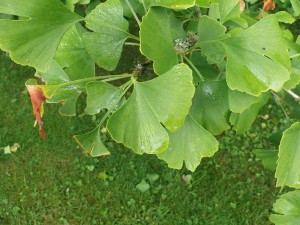 Ginkgo biloba was first introduced to the west in the early 1700s, possibly about 1727, and was named Salisburia adiantifolia by James Edward Smith (1759- 1828), who was a founder and the first president of the Linnean Society, and Salisburia biloba by Johann Centurius von Hoffmansegg (1766 – 1849), a German botanist and Count. In 1771 Carl Linnaeus (1707-1778) described both the genus Ginkgo and the species Ginkgo biloba in his "Mantissa plantarum altera generum editionis VI & specierum editionis II" and so the name was settled.
What has caused botanists far more problems was placing the genus Ginkgo in the over all system of plant names. The fossil records show it was part of a large group of plants in the Jurassic period but only this one species remains resulting in the rather erroneous description of living fossils as there is no evidence that any of the fossils are of the actual specie Ginkgo biloba.  Its seeds lack an ovary wall and it has flowers so it is often placed in the class Gymnospermae along with the conifers and in garden books it is usual listed as a conifer but it has little in common with any other extant plants let alone conifers. This has lead to a various attempt to place it in a suitable group. It has been suggested that it is closest relative is the Cycads while others place it in with the Horsetails. What is clear is that botanists still have a long way to go in unravelling the evolution of plants.
Notes:
* Being a gymnosperm the plant cannot by definition have fruit in the strict botanical sense.