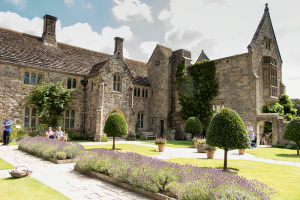 Ludwig Messel's Sussex garden was and still is more about plants than design. When Ludwig purchased the estate in 1890 the London, Brighton and South Coast Railway had built up a large network of railway lines covering the Sussex making the area an easy weekend commute from London and a depressed agricultural sector (caused at least in part by the improved transport infrastructure of the time) made land affordable. The Messel family had been Jewish financiers in Germany and Ludwig had come to England in the hope of making his fortune in what was one of the great financial capitols of the world. Being one of the nouveau rich, and an immigrant as well, Ludwig Messel naturally sort acceptance in the circles of established wealth. At the same time the British Empire had spread over the globe bringing with it discoveries back which in turn fuelled the search for more – not least in the form of plants.
This all came together so that by the latter part of the 19th century you had:
Rural Sussex with very good transport links to London.
Relatively cheap land.
An influx of new garden plants from abroad, notably the Far East.
An established wealthy class with a long history of horticultural innovation.
A class of new very wealthy and socially ambitious individuals.
This lead to a cluster of fine gardens in the area, but Nymans has two other advantages. One a new owner who not only rapidly developed a passion of gardening but who also developed an excellent horticultural knowledge and in addition an exceptional head gardener in James Comber who guided the garden from 1895 until his death in 1953 at the age of 87.
The garden benefited from advice and help from wide circle as a result of friendship, connections and marriage. This together with, in the early days at least, a ready supply of money created a melting pot of ideas. The many of new plants from around the world found a ready home in the garden where their hardiness and garden worthiness were assessed. This with the active plant exchanges with fellow garden owners and hybridisation created Nymans fame.
Ultimate the depletion of the family's finances and the lack of skilled staff after the world wars meant a few months after James Comber's death the house and gardens came into the possession of the National Trust. His successors have taken on the role of maintaining the garden rather than its development. The house is presently a boarded up ruin following its near complete destruction in a fire in 1947 and is likely to remain so without a very generous legacy, but the gardens remain as an excellent example of late Victorian gardening at its best.