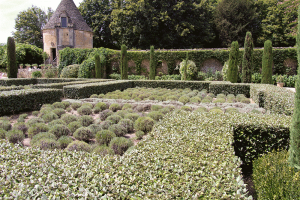 The château and garden are situated on a rock outcrop which forms the west bank of the river Vézère and the château and stables are protected on the remaining three sides by a deep dry moat as fits its original purpose as a fortress. The hall of the château dates from 1576 and has remained unaltered since the 16th century.
The gardens are principally in three areas one to the north in what was the area for the stables, one to the south of the courtyard and one immediately south of the moat. The gardens rely on careful pruning to form a controlled ad inward looking style with little regards to the countryside or views of the river.
The stables garden is dominated by four symmetrical shapes each a reflection in the cardinal axes using clipped box with lavender and cotton lavender. This simple design is lifted by a simple rill running north/south from a wall fountain at the south end. What would be a rather flat design is then lifted with carefully placed fastigiated conifers and by clothing the soft gold stone wall with green foliage.
The area to the south of the moat is a simple design using hornbeam hedging with some areas of colourful planting in the enclosed space. By this area is an unusual pleached hedge with a conventional low hedge at the bottom and then three tires of pleaching above it.