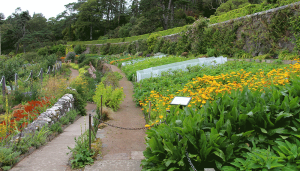 In 1862 the Mackenzie family purchased the 2000 acre Inverewe estate on the North West coast of Scotland and the 20 year old Osgood Mackenzie started to make himself a garden. He chose his site well; though 57° 46' north, and so north of Inverness, the location benefits from the warming effect of the Gulf Stream. This wasn't its only advantage as located at the southern base of the sea Loch Ewe providing shelter from the surrounding hills. To augment this McKenzie planted extensive wood lands to the east to shelter the site, an area which is now an important wildlife habitat.
This wise choice of location and its improvement allowed the garden to grow a vast range of plants that would not have otherwise survived the winters. This was helped by the early construction of the walled garden and the improvement of the land with large amounts of topsoil. The garden outside the walled area uses the shelter of trees which shelter the larger shrubs and these shelter smaller plants and so on down.
This garden demonstrates how both the local surroundings and careful improvement can be as big an influence on the potential of a site of a garden as the physical location on a map.