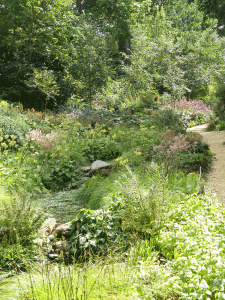 This garden started out as a small garden around the home of the late Sir Harold Hillier, of Hillier Nurseries. Here he set out to create as large a collection of woody plants that could be grown outdoors in southern England as he could and as the head of Hillier Nurseries, with its vast plant list, he had a good start. The garden has now grown to 180 acres and is now run as a trust by Hampshire County Council.
Initially referred to as a garden and arboretum it is far more than a living collection and covers all forms of ornamental plants. The gardens were very much Hillier's belief of what a garden should be and that was to show off the beauty of plants. The garden is therefore the result of the rare combination of a passion for plants, a vast horticultural knowledge and the resources to bring his vision to reality.
The garden manages to be both a stunning garden and a valuable horticultural resource full of rare and important plants, holding several national collections.