I provide a garden design and a garden advice service for homeowners and businesses situated between Leeds and Newcastle and the extent of the work is up to the customer. I will happily provide a design for a new border or redesign several acres of garden: if you simply want advice that is also an option. I can provide designs and advice on all aspects of gardens encompassing: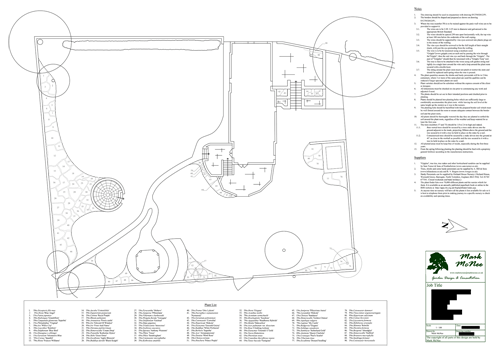 Whole garden designs and redesigns
Designs for part of a garden
Border designs
Detailed designs and specifications
Permission for "Change of usage" from non-garden use to garden
Lawns and wildflower meadows
Paths and steps
Garden ponds and water-features, including:

formal ponds
wildlife ponds
Koi ponds
fountains
waterfalls
streams
self-contained water-features
pond planting
plastic lined ponds
concrete lined ponds
pond filters

Decking, including:

raised decking
steps linking different decking levels

Garden lighting
Garden buildings, including:
Drives, including:

Creating them
Extending them
Moving them

I don't actually build the gardens, although if you want me to I can manage the construction of the garden. I charge for this service, but unlike some other garden designs this is based on the time it takes me and I do not take a percentage of the costs of construction. I don't propagate, grow or stock plants, but I have many years experience of sourcing plants and landscaping materials so that I can provide advice on finding them and if you wish sourcing them for you. I'm not an architect and so I only deal with the garden and not the house, although if you are having some building work done to you home I will be only to happy to work with them.

My initial visit is without obligation on you part but if you decide you would like me to provide advice and/or designs then the time I spend on them will be charged. Also the cost of travelling is now so high that a charge will be made to cover it and this is based on the mileage shown on Google Maps.
The work can be charged as a fixed price agreed before the work is started or as an hourly rate, though this will include all the hours spent working on your garden and not just time on site.
All the fees charged by other organisations (such as printing costs, planning fees, etc.) will be passed on at cost.
If you would like to contact me to discuss you plans please contact me through the form on my contact page. You can view my terms and conditions here (opens in a new window).