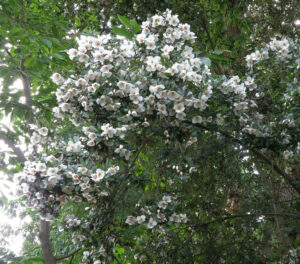 This may not be a very popular plant; I fear the name may put off some, but it should be far better known. Not only is it an evergreen with attractive foliage all year round but every late summer it disappears under a mass of white flowers.
Though not spectacular individually they are borne in such numbers as to make this one of the best flowering trees.
This with its habit as a small to medium sized tree of quite narrow shape it makes an excellent choice for a small garden. Unfortunately it tends to only be sold as a bush up to about 1m tall so it tends to be over looked as a choice for garden trees.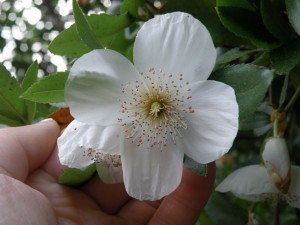 E. x nymansensis is a very variable hybrid which results from crossing Eucryphia cordifolia and E. glutinosa, two excellent South American species. Eucryphia × nymansensis 'Nymansay' itself is a selection of one of these hybrids by James Comber who was head gardener at Nymans (hence the name) just after the First World War.
 Eucryphia cordaifoliais found in central Chile and northern Argentina where it forms an evergreen tree growing up to 40m; though in the UK it is more usually a large bush or sometimes small tree. There it is known as Ulmo and the flowers are highly valued by beekeepers that produce Ulmo honey. Its heavy and hard timber is used in construction and the production of good quality charcoal.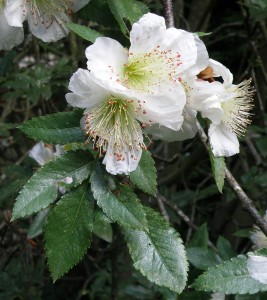 Eucryphia glutinosa is also found in central Chile, where it is known as Holy Cherry, and it forms a small deciduous tree. Its name glutinosa comes from its sticky buds and like E. cordifoliaits flowers a prized as a source of nectar for Ulmo honey.