Now we've given the garden a really good looking at it is time to get our hands dirt. Having studied the garden you may well have come to the conclusion some plants are just too big, in the wrong place or you just don't like them. To start with the last first, because it's the simplest, you've got one choice and that is to dig it out. At this point you may come to the conclusion that it would be just as easy just to cut it down to the ground and leave the roots where they are. This though has problems and first of these is that stumps take a VERY long time to rot. Not years but decades! You are then going to be left with a stump in the border to try to disguise, trip over every time you go into the border and hit with a spade when you try to dig in the border.
There is a further problem to this short cut because not all the fungi that will attack and hopefully rot down the stump are benign. Some will spread to adjacent plants and attack them and one such example is Honey Fungus. I'm not going to digress into details of this disease except to say once you've got it you have a serious problem.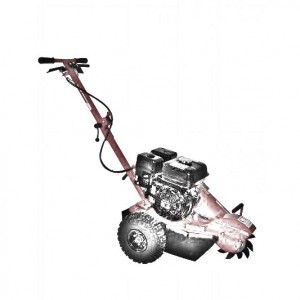 This means, if at all possible, you are going to have to dig the plant out. This can be achieved in a number of ways and the easiest is often a stump grinder, or chipper, which grind the stump down to a heap of chippings. These come in a vast range of sizes from small ones you can hire to operate yourself and wheel around the garden to large self propelled machines which are supplied with a specially trained operator. An alternative is to use a digger to dig out the stump. These are rarely a good solution unless one is already on site for other reasons due to their size, cost, difficulty of operating and limited ability to dig out stumps – I've seen a JCB struggle to remove  relatively small tree stumps. Third way is winching out the stumps and the modern lever operated winches do make this a more attractive option than most people realise. They have though two Achilles heels. One they need a very secure anchoring point as how ever much force they pull the stump with they also pull what ever they are anchored to. The second is as they pull the roots out anything else near them, like drains, water pipes etc, tend to be pulled out as well. Finally you can grab the bull by the horns and just dig it out by hand. Be warned though this is very hard work. You will need to good spade, gloves, boots, axe and preferably a large steel crowbar.