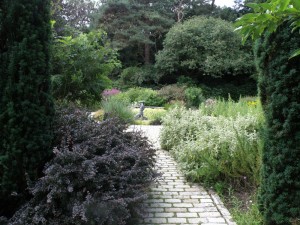 With the vast range of possible paving materials it can feel a bit daunting when you first starting looking at paving materials. To try to reduce the selection down to a more manageable size, it is well to consider the practicalities imposed on you by what you are planning to use the paving for. You can then check how much of each type you are hoping to use, compare the costs of using different materials and if need adjust your plans.
Though there is considerable over lap; the uses for paving in a garden can be divided into four main categories: drives, patios, paths and utility areas.
Drives
When choosing a material for a drive the first consideration must be what will
happily withstand having a car regularly driven over it and parked on it. The second consideration, is that for many people it will be the first thing visitors see of there home. On the other hand though; it also spends a lot of time hidden under a car. Once you have eliminated the impractical options the chose comes down to cost and personal preference. Please note if you paving an area of you front garden planning permission may be needed.
Patios
Where as a drive is something you park a car on, a patio can be a major feature of a garden and so your budget should try to reflect that. The important thing  is that it forms an attractive feature and not a slab of paving.
Paths
The idea of a garden path is as old as the garden itself, but a path has to have a purpose.
And that will influence the materials used. If the path for instance is going to be in a vegetable, where you are stepping on and off the path onto the bare soil you are going to have problems if you use gravel . Every time to step from one to the other soil and gravel will be transferred from one to the other; ending up with a muddy path you can't clean. On the other hand an informal border winding along the edge a border is going to be difficult to achieve with square and rectangular flags and runs the risk of looking messy if its full of cut flags.

Utility areas
Most gardens have some area dedicated to the necessary but unattractive bits of a garden where things such as the shed live. Here the importance has to be the functionality of the material. Something that is cheap, durable and easy to clean.