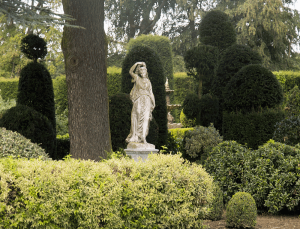 Situated just 6 miles North West of Doncaster this is a garden you will find or hear little about which is a great shame as it is an excellent example of a garden of a wealthy English gentlemen in the mid-19th century. Funded as a result of a most peculiar will, the house and grounds were created for Mr Charles Sabine Augustus Thellusson in the 1860s and as a result of remaining the house remaining in the same family, all be it with a decreasing ability to afford it upkeep, meant it remained virtually untouched from the manner Charles Thellusson left it in.
This unusual history means we are left a rare glimpse of what a mid-Victorian garden might of look like. I say "might of" not as a criticism of its present owns English Heritage, who have done an excellent job of restoring the house and gardens, but because it is just one person's garden and therefore their personal view of what a garden should look like at that time.
As it was Charles Thellusson chose what has been described as an Italianate style, with grass terraces linked by steps to the north and west elevations of the house along with the extensive use of statuary in the classical style. The house is not visible from the gates and is revealed as you approach it along a sweeping drive through a large lawn, in the manner of the early landscape movement but greatly scaled down. The majority of the garden lies to the north and east with a rose garden, rockery, bedding, topiary and wild garden each in its own allotted area. 50 years later the idea of compartmentalising a garden into areas or rooms fully matured with the creation of Hidcote.
Bodsworth Hall therefore shows a step in the evolution of the English garden from the sweeping vistas of the landscape movement towards what would become the arts and crafts gardens in the early part of the 20th century as gardens sort to accommodate the influx of plants from around the world.