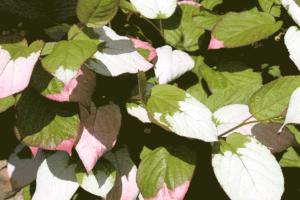 This beautiful wall shrub deserves to be far more widely grown yet currently only about 53 suppliers are listed in the RHS plant finder. This is surprising as few other wall grown plants provide such an attractive display for so long. The foliage opens green but quickly develops a white and pink variegation as if they had been dipped in pots of white and pink paint. This variegation only develops in the presence of plenty of sunlight and along with the shrubs scrambling habit means it is always seen grown against a south facing wall, although I can imagine it would also be very attractive scrambling over a south facing bank.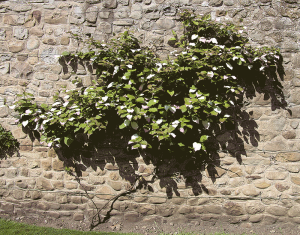 It's white, slightly fragrant, summer flowers are over shadowed by the foliage and as it is both dioecious and it is only the male plant which appears to be in cultivation you are unlikely to see the fruits which are said to be edible. The closely related A. deliciosa (A.Chev.) C.F.Liang & A.R.Ferguson which is better known as the kiwi Fruit and several of the 100+ species of Actinidia Lindl. are cultivated commercially for their fruit.
Actinidia kolomikta (Rupr. & Maxim.) Maxim. is easy to grow not being particularly fussy as to soil type and vigorous, reaching up to 4.5 to 6 metres up a wall. They are reasonable easy to propagate by cuttings or layering and are perfectly hardy.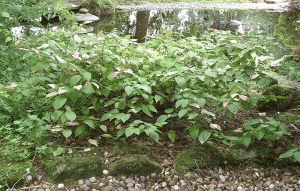 First described by Carl Johann Maximowicz and Franz Josef Ruprecht two botanist working in Saint Petersburg in the 19th century; they initially placed the plant in the genus Prunus but subsequently both revised their decision and Maximowicz placed it in the genus Actinidia created by the British botanist John Lindley which he named after the Greek for ray because of the styles in the flowers. The plant is native to the region of Amur in Russia where it is known as kolomikta and Maximowicz described the plant growing wild in his 1859 book Primitiae Florae Amurensis (Beginnings of an Amor Flora). Amur Oblast is still a largely remote region with temperatures that can range from above 30°C in summer to below -40°C in winter.